Regular price
Sale price
$49.00 USD
Unit price
per
Sale
Sold out
NOTE: This item is made to order, which means it will be specially crafted just for you. If you need the item urgently, please leave a note in your cart and we will do our best to prioritise your order.
Our personalised hardwood wooden docking station is a versatile charging and organization solution for your everyday essentials. Meticulously crafted from premium hardwood, this docking station offers a stylish and functional way to keep multiple items neatly organized in one central place.
Designed to effortlessly hold your phone along with other important accessories, this docking station is a must-have for any office, study, bedroom, or living room. Whether you need to declutter your desk or organize your nightstand, this versatile accessory seamlessly blends into any environment.
Constructed from two separate wood pieces that securely interlock, our docking station offers a sturdy and reliable solution. Its thoughtfully designed compartments can accommodate various items, providing a convenient storage solution for your keys, wallet, watch, and more.
Invest in this beautifully crafted docking station and elevate your organization game. It not only enhances the aesthetic appeal of your space but also ensures easy access to all your essentials.
Size and dimensions
As a flat pack
Height - 3.8 cm
Length - 22cm
Width/Depth - 17.5cm
When connected together

Height - 22 cm
Length - 22cm
Width/Depth - 17.5cm
Weight of item - 0.5kg
Product Information
1. Wood - we use Okoume hard wood
2. How It Works - Simply slide one wooden piece into the other to securely connect them. You may need to refer to the photo listing for the wood orientation
3. Finish – We use hard wax oil
Personalisation
This item can be personalised or engraved on the bottom part of the watch holder (please check the listing photos)
Maximum of 10 characters is allowed per line and maximum of 2 lines only. The height will be smaller if more text/characters are included.
Indicate the text how you want it engraved. Ex: all caps - JOHN, small caps - john, or mix - John. Just note that text that you want engraved to avoid confusion and mistakes. If you are using cursive font, we do not do all caps.
Notes
Decorations not included.
Please be aware that the wood we use will vary in colour and grain.
Contact owner for any specific requirements
Share
View full details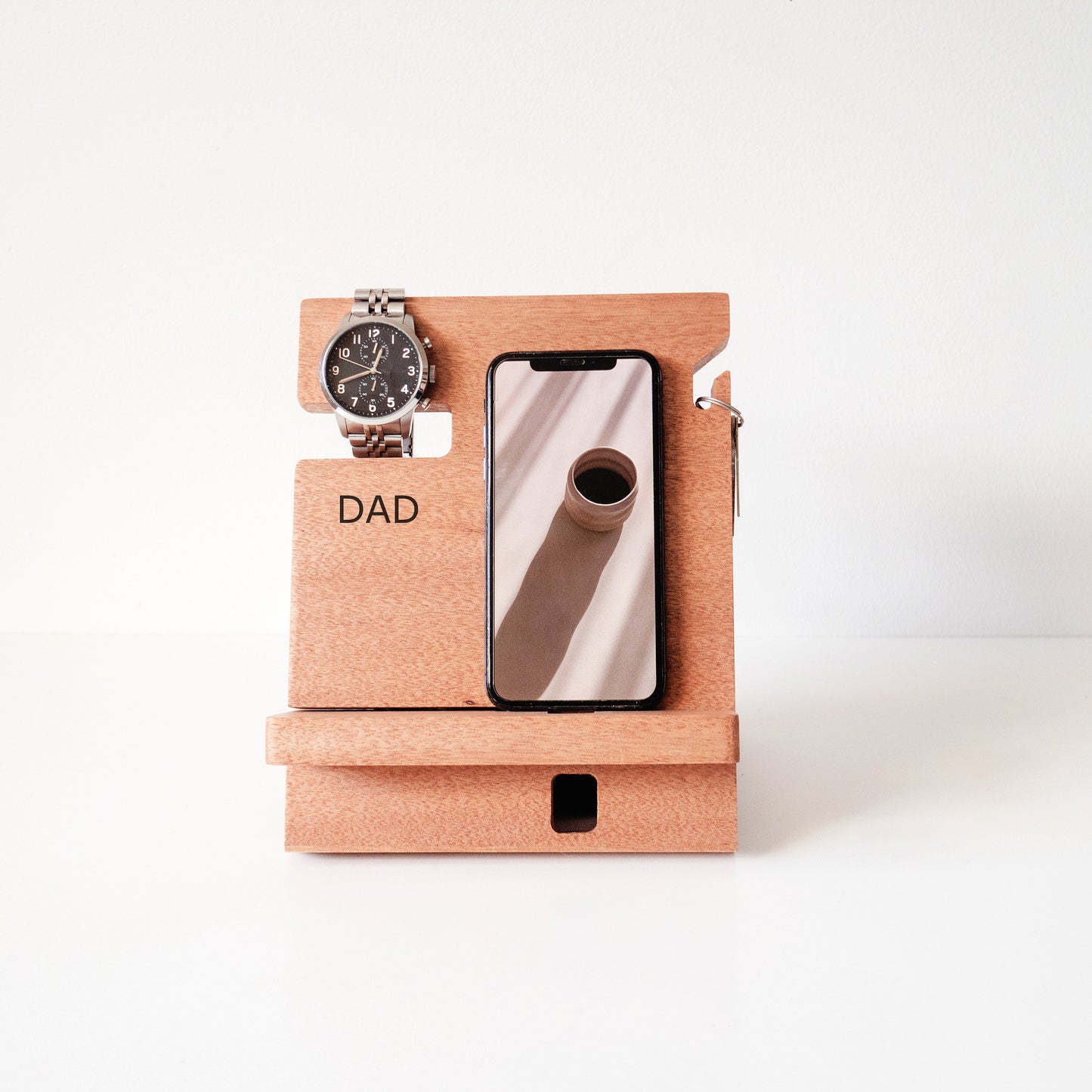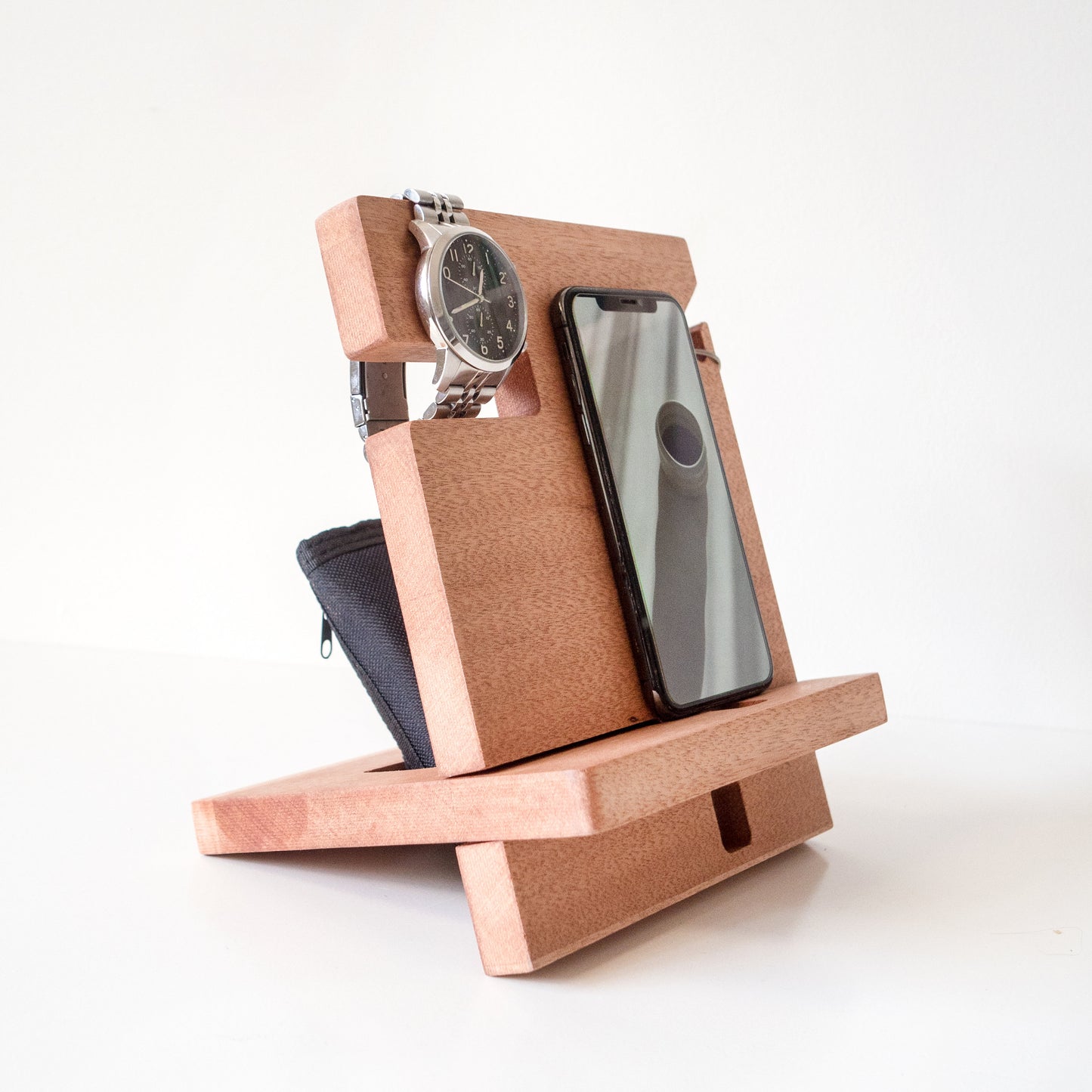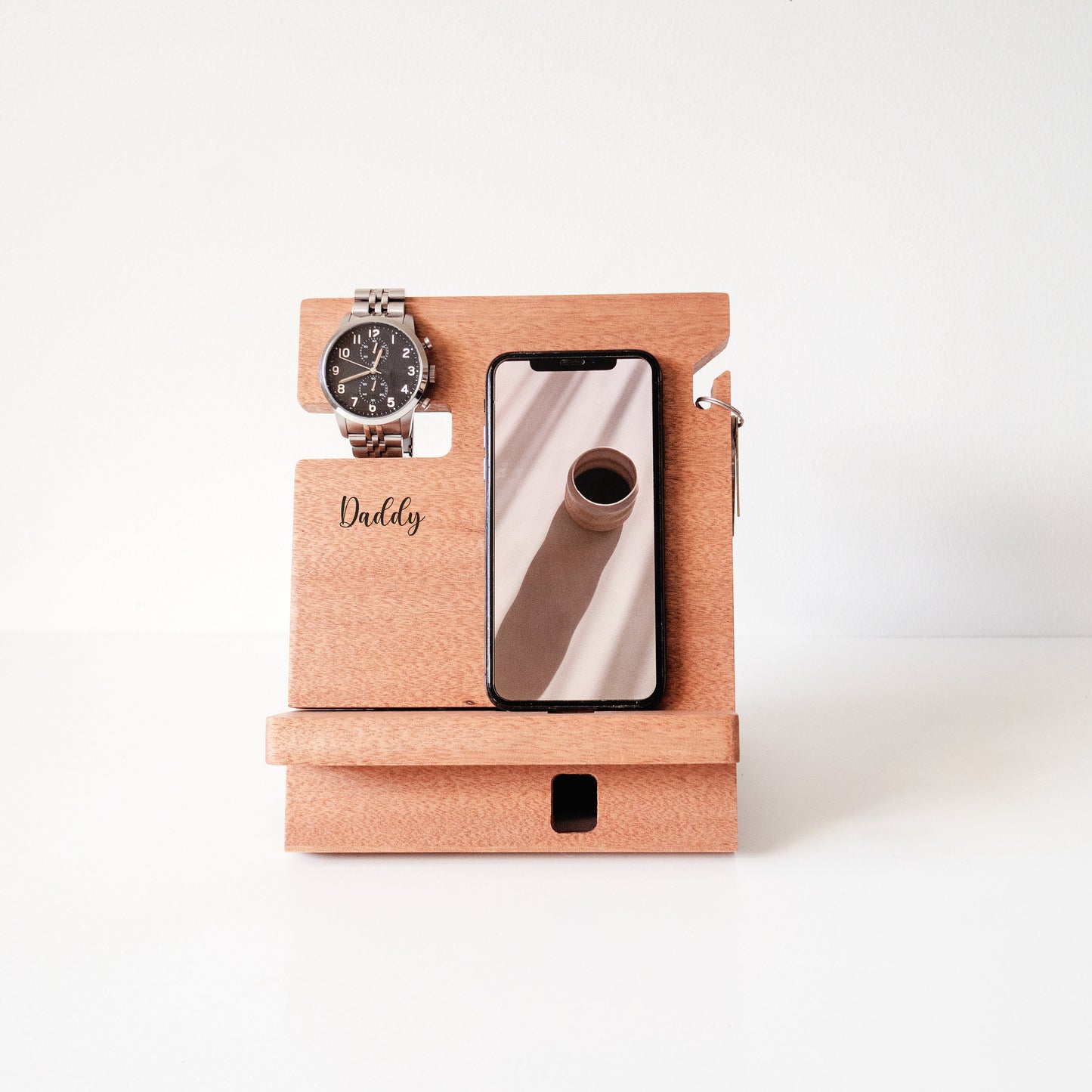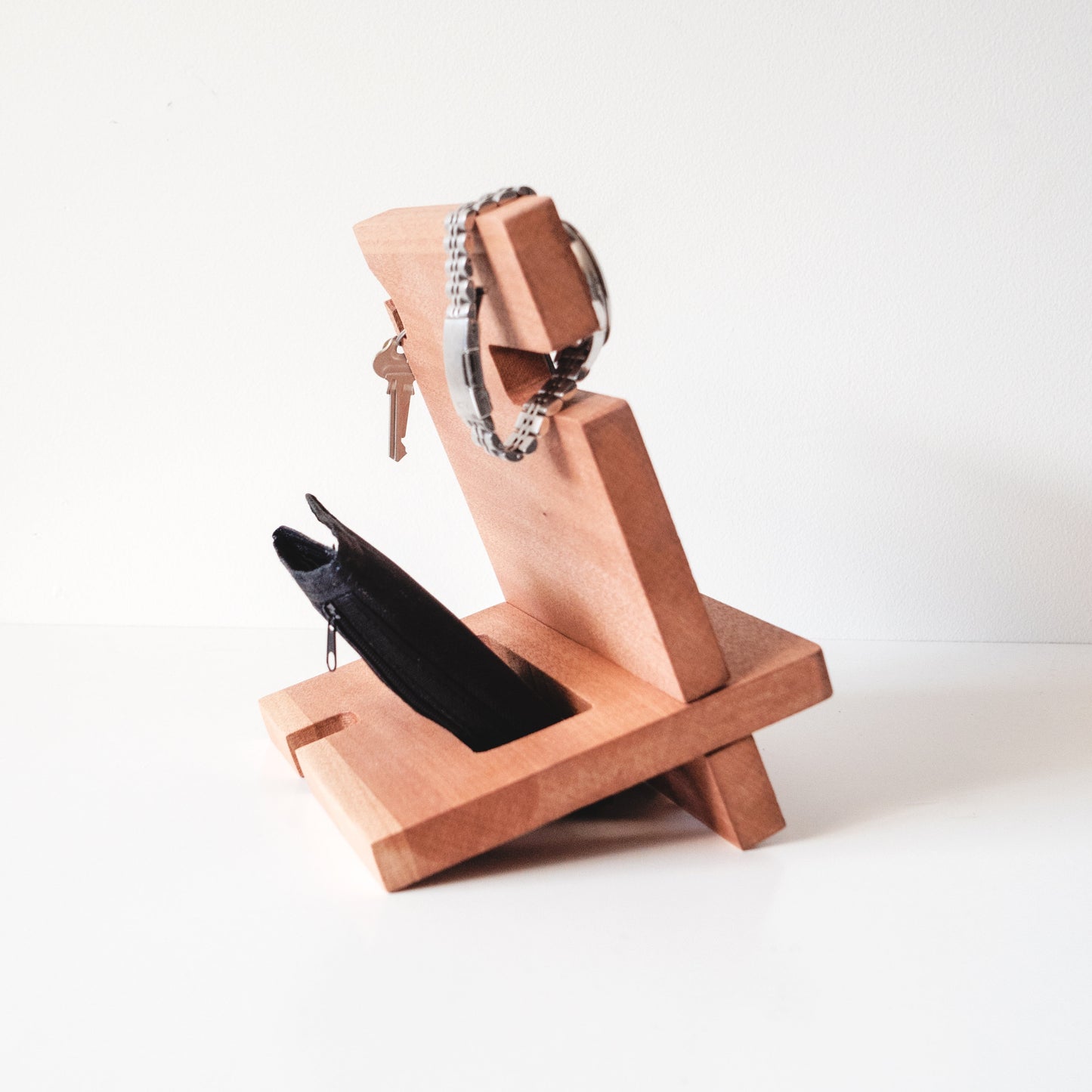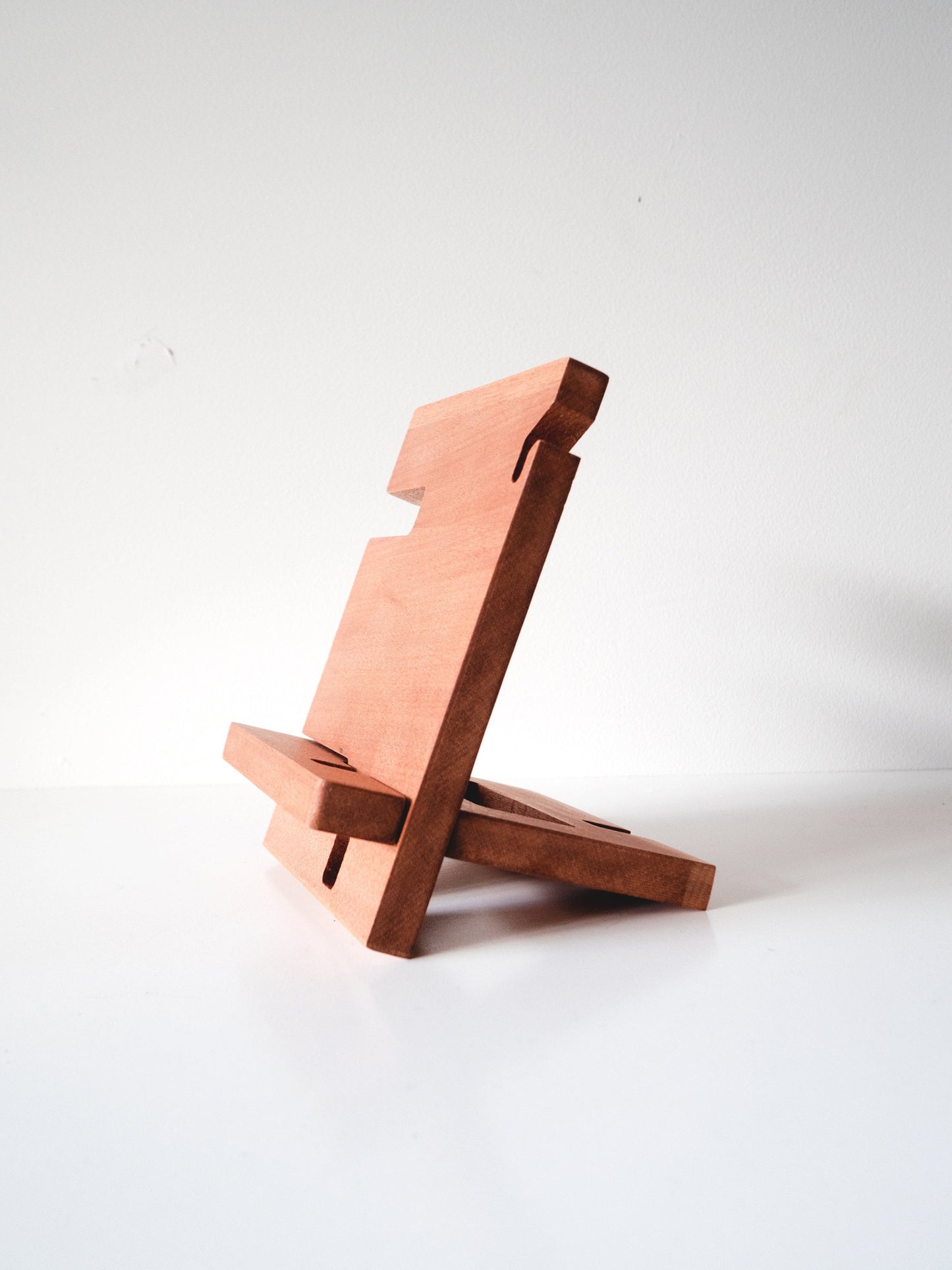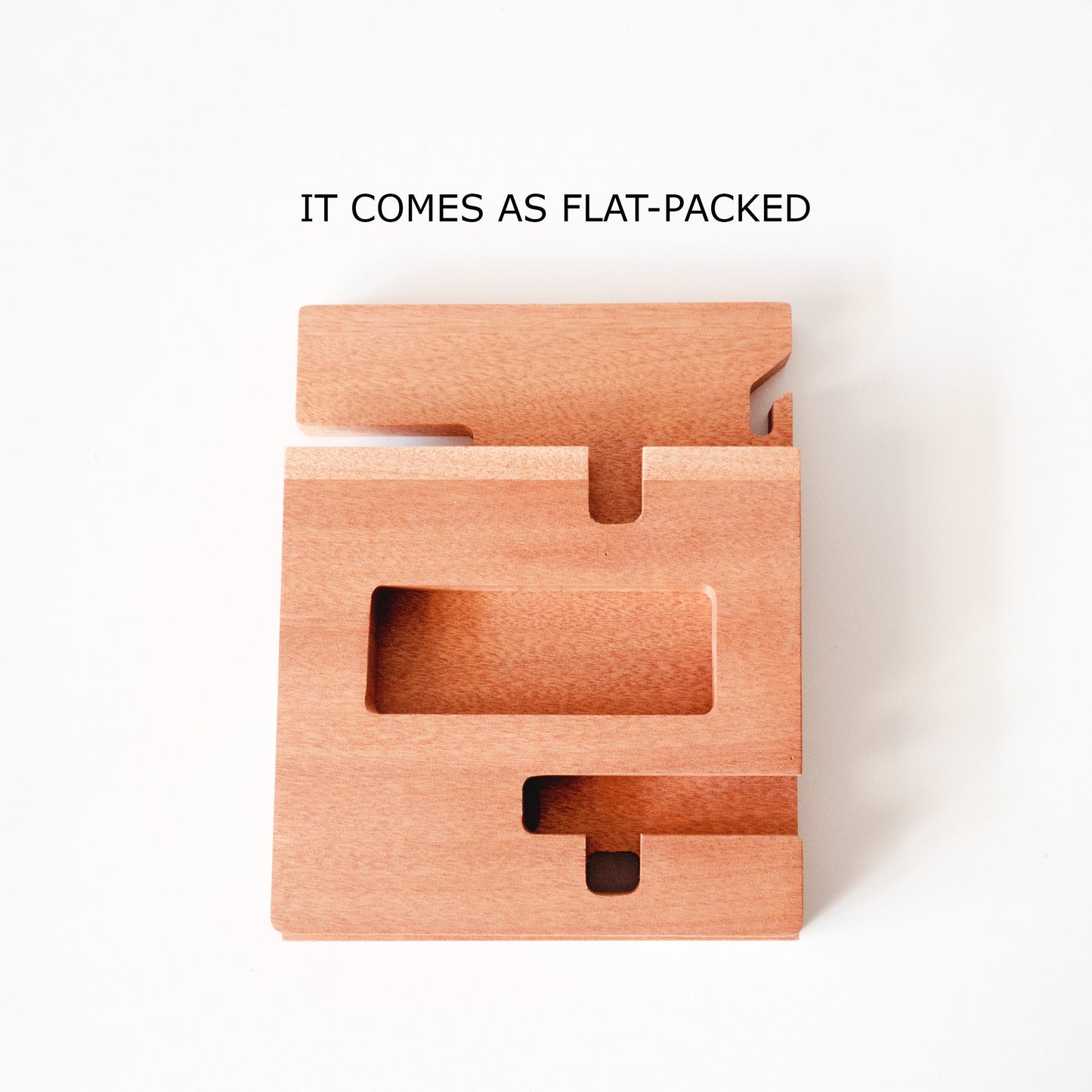 Love it
We bought the stand for my husband for the kids to give him for Fathers Day and it couldn't have made a better present.
It is so well made. The edges are lovely and smooth. It's a great size to fit all of husbands things (watch, glasses, keys, coins, phone, wallet). It really is so fabulously designed and made.
So much so that I've mentioned to hubby that one on my side of the bed is needed to 'even things out' but really I need one because it is so good and I'm totally jealous when I look at his bedside and then look at my jumbled up mess.
So we will be a repeat customer.
Great quality. Great service. Beautiful ti...
Great quality. Great service. Beautiful timber.
Amazing quality, missing the Apple Watch c...
Amazing quality, missing the Apple Watch charger cutout but otherwise it's perfect!!
Was very happy with the sturdiness and qua...
Was very happy with the sturdiness and quality of the wooden docking station. The grain in the timber looks great. The variety of cutouts make it super versatile. The only thing I would have changed is the cursive font engraving to be slightly larger.